The pandemic continues to stress already over-worked hospital supply chain resources. And yet, the contracting calendar marches on; undaunted by your schedule and seemingly unaware of any other priorities. Resorting to the tried-and-true method of triage, you have determined that it might be best to kick the can down the road on high-value implant contracts. Who can imagine gathering surgeons, supply chain staff and other key stakeholders for an intensive vendor bid and negotiation at a time like this when it would be easier to defer by requesting an extension? If all parties agree to hold pricing firm for another year, the economic impact should be neutral, right?
If your implant agreements are more than a year old, here are the top three reasons you should negotiate now (even if your contracts have not expired).
Reason 1: Extensions Do Not Preserve Pricing - They Increase Costs
It would seem that holding the current price for another year would ensure you remain in a neutral cost position. Implant contracts, however, defy the common rules of contracting that almost every other category has. Rapidly changing technology, manufacturer consolidations and shifting market share all add up to another cost factor that few give credence to – opportunity cost.
"Industry pricing is trending downward in every category of physician preference implants," says John Owens, Kermit Co-Founder and Managing Director of Services. "That means contract extensions produce an additional year of pricing that is unnecessarily higher." Can our hospitals afford to postpone necessary cost reduction faced with the recent hit on revenues from cancelled and postponed elective surgeries?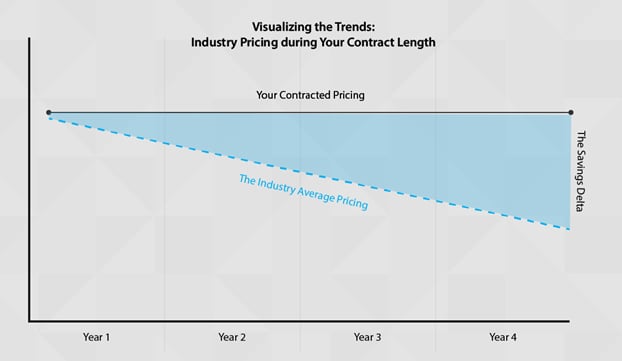 "While physician preference costs are trending down, securing that pricing can still be a challenge for hospitals. There is no denying that a contract extension can look like the smart business decision due to limited bandwidth, but also because vendors make contract negotiations very challenging, especially for organizations with decentralized stakeholders and a lack of visibility to data which links clinical utilization to contracted costs," says Owens.
Reason 2: Big Savings Opportunities are Locked Within Contract Terms and Conditions
Hospitals are hyper-focused on price when it comes to negotiating implant contracts. But the category of physician preference items – and their accompanying surgeries – bring another opportunity for significant savings. This can be addressed by updating the terms and conditions of your vendor agreements with contemporary language which mirrors how surgeries are performed. A contract extension means living under outdated language for another term.
"Pricing schedules are certainly important, but they are not enough. Contract terms and conditions can be employed to drive cost reduction," says Owens. "Many of us remember the manageable options available ten years ago for knee sizes. Today there are hundreds of options in both primary and revision items being used and new technology in partial knee, robotic-assisted surgery, and packaged one-time use instruments. If you're not keeping up with putting a corral around these items being used, you run the risk of losing control very quickly."
The myriad of new products being released and marketed to your surgeons make it likely that new products will be utilized and implanted in your patients without a contract or price, despite your best attempts at running a tight value analysis and approval process. Addressing this now within your contract terms is a simple way to prevent paying more than you need to if you were to extend contracts.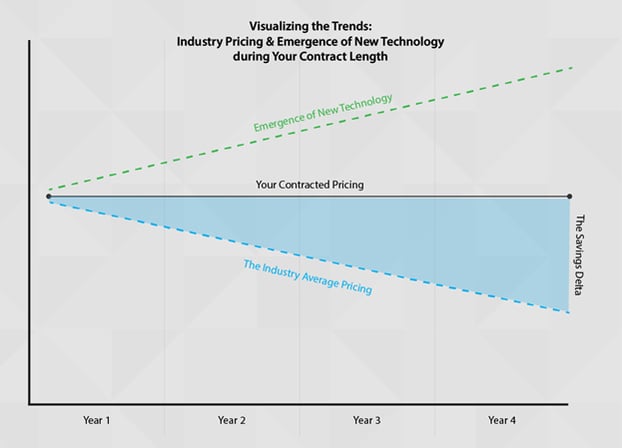 Kermit's approach to contract compliance harnesses bill-only audit technology to enforce contract terms – from the most basic to highly complex.
"When hospitals realize that a member of their team won't be the one to review every bill sheet and that a machine can execute this perfectly – every time – they get creative about the types of terms to include in contracts. Many of these seem innocent enough to vendors who accept them, not understanding how the hospital will enforce compliance", Owens adds.
Waiting to address this in your contracts easily plays into the hands of vendors.
"It is not out of the ordinary for a surgeon to request something unique for a certain case," Owens says. "What the surgeon is unaware of, however, is that the vendor may take the opportunity to supply an item, such as a revision item in a primary case, and drive the cost up."
Reason 3: The Pandemic Has Changed Things For Your Vendors, Too
It has now been 18 months since the pandemic began to impact life as we knew it here in the United States. Hospital revenue took a big hit with elective surgeries being cancelled and postponed. Some predicted that the backlog of surgeries would crush hospitals as they began to return to a normal schedule, but it seems that there are still patients who are either waiting to be scheduled or who have determined they are not yet comfortable going to the hospital.
Whatever the case, implant distributorships were not prepared to go from 100 mph to nearly a dead stop when surgeries were cancelled. This has led to missing sales projections and adjustments in local markets. By and large, most of the global manufacturers of implants have weathered the pandemic, but smaller – and sometimes family-owned – distributorships have been willing to restructure previous agreements if there are benefits for them.
"Hospitals can always negotiate better if they understand market conditions and what the other party's needs are in the deal", Owens said. "While much has changed for hospital purchasing during the pandemic, it has also been disruptive for device vendors."
How Kermit Can Help During Your Negotiations
The ideal approach is to renegotiate and update your implant contracts instead of simply extending the old, out-of-date agreement.
"The savings are far too significant to pass-up!" said Owens. "I would encourage every hospital to take advantage of the market trends that are driving implant prices down to realize savings today. However, recognizing the size of the project lift and the associated bandwidth constraints facing our nation's hospital supply chain teams, it's a real challenge for hospitals to go after these opportunities."
Owens and his team have streamlined an efficient process that can yield hospitals an average of 30% savings on their annual PPI spend. The technology-enabled service can be engaged risk-free, as Kermit only receives service fees out of realized savings.
With a team of experts from across the industry, including other former device representatives, hospital chain supply executives, and ambulatory surgery center leaders, Kermit can find savings for hospitals in 23 different surgical categories, including the complex and high-spend categories of spine, total joints, and biologics.
"We have built a unique team of expert negotiators and supply chain operators who are the top in our field. These folks are passionate about sharing their expertise with hospitals who become multi-term customers of the company," says Owens. "From large academic systems to regional medical centers and community hospitals, the approach has never failed to obtain savings over a ten-year track record. Even the hospitals that have strong GPO relationships and are confident that they have 'top-tier' pricing and controls in place to prevent price creep have been productive engagements."
Want to Learn How Kermit Can Enhance Your Implant Analytics?
Kermit has experience working with highly-varied environments from rural hospitals, community and regional medical centers, academic health systems and large integrated delivery networks. Learn how we can tailor our approach to you. Fill out of the contact form below to learn more.
---
1According to a 2021 report published by Emergen Research, the next generation implants market will grow from $3.43 billion in 2020 to $4.45 billion by 2028 with the biggest driver in this growth being an increase in R&D by the major implant vendors.